Applications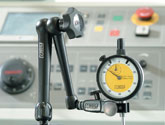 Due to its stability and ease of use, Noga articulated holders have become the industry most wanted.
- New Fine adjustment on Top with universal swivel clamp.
- Holds 6mm, 8mm,3/8",dovetail and back lug.
- Unique central locking mechanism with Noga designed spring loaded bearing.
- Dial gauge holder is 3 dimensional.
- Most powerful on/off magnetic base.
- Instant fixation in any position.
- Fast and easy to set up gauges into required position.
- Black finished Arms.
Articulated holders FAT - Tools
Articulated holders FAT - SPECIFICATIONS TABLE
Holder
Arm Length
Magnet
Order no.
Bottom Thread
Weight
Bottom Arm
Top Arm
Total
Force
Dimension
D
[Kg]
L1
L2
L1+L2+L3
[N]
W
L
H
DG61003
Ext. M8
1.35
110
101
282
800
50
55
60
DG6160
Ext. M8
1.43
110
101
282
800
50
55
60
DG60103
Ext. M8
0.34
110
101
282
--
--
--
--
MA61003
Ext. M10 x 1.25
5.1
286.5
222.5
580
1300
50
55
120
MA60103
Ext. M10 x 1.25
3.1
286.5
222.5
580
--
--
--
--
MG61003
Ext. M8
1.9
133
113
317
800
50
55
60
MG60103
Ext. M8
0.9
133
113
317
--
--
--
--
MG6161
Ext. M8
1.97
133
113
--
800
--
--
--
NF61003
Ext. M5
0.52
56
51
178
320
30
35
40
NF60103
Ext. M5
0.32
56
51
178
--
--
--
--
NF6160
Ext. M5
0.55
56
51
--
320
--
--
--