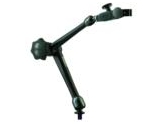 click images to zoom
New Fine adjustment on Top with universal swivel clamp.
- Holds 6mm, 8mm,3/8",dovetail and back lug.
- Unique central locking mechanism with Noga designed spring loaded bearing.
- Dial gauge holder is 3 dimensional.
- Instant fixation in any position.
- Fast and easy to set up gauges into required position.
- Black finished Arms.
Includes:
Related Products
Related Tech. Support